Por ACHEIUSA
Os Estados Unidos possuem paisagens e cidades impressionantes que vão muito além dos principais destinos do país, como Nova York, Miami e São Francisco.
Com dimensões continentais e uma biodiversidade espetacular de paisagens que enchem os olhos, o terceiro maior país do globo é banhado pelos oceanos Pacífico e Atlântico, e possui paisagens formadas por desertos, montanhas cobertas de gelo, florestas tropicais, praias encantadoras e muito mais!
Parque Nacional dos Fiordes de Kenai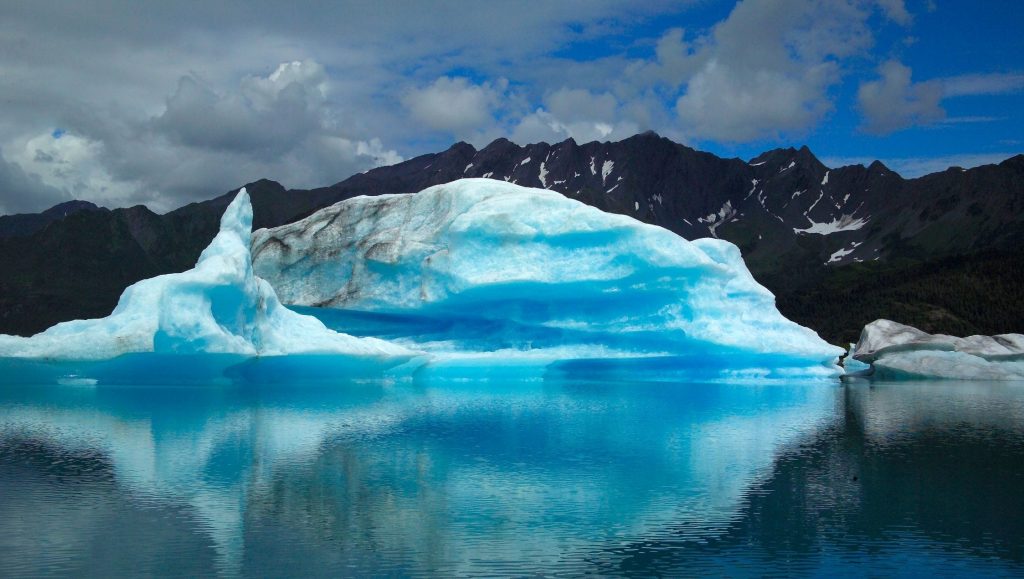 Onde fica: Alasca.
O que fazer? Passeio de kayak entre os icebergs do Lago Bear e conferir o Harding Icefield, o maior campo de gelo contínuo dos Estados Unidos.
Localizado na região sul do estado americano do Alasca, o Parque Nacional dos Fiordes de Kenai tem acesso pela cidade de Seward. O parque tem paisagens bucólicas impressionantes formadas por glaciares, montanhas nevadas, lagos e florestas. Além disso, a região também é um ótimo ponto para avistar as luzes coloridas da aurora boreal, que ocorre entre os meses de setembro e abril.
Salar de Bonneville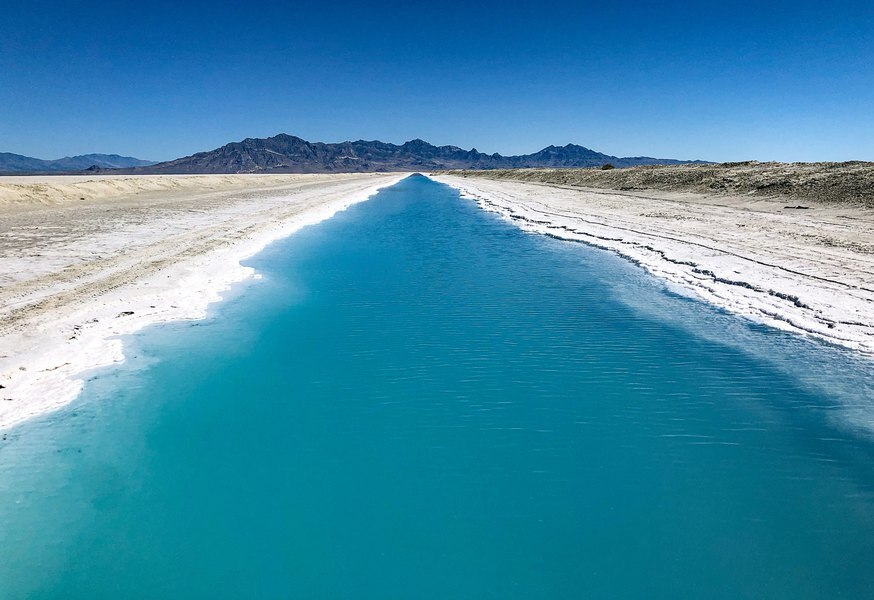 Onde fica: Utah.
O que fazer? Conferir a Bonneville Speed Week, a exótica corrida de carros no deserto.
Com cenário parecido ao fascinante Salar de Uyuni, na Bolívia, o Salar de Bonneville ou "Bonneville Salt Flats" é um deserto de sal com mais de 30 mil acres. Em agosto, aventureiros em busca de adrenalina, organizam o tradicional evento de quebra de recordes de velocidade, sendo que a maior velocidade alcançada em solo pelo homem foi de 1.172km/h.
Na Pali Coast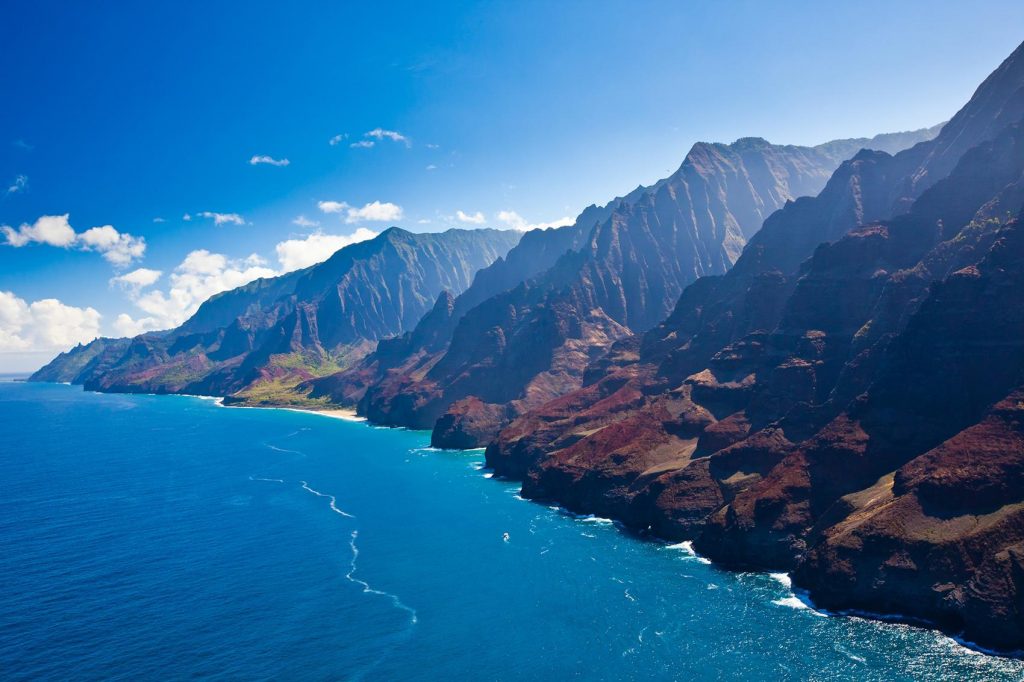 Onde fica: Kawai – Havaí.
O que fazer? Percorrer a Kalalau Trail, uma trilha impressionante que percorre os picos e vales da costa.
A Costa Na Pali é sem dúvidas um dos pedaços mais belos da ilha havaiana de Kauai. A costa litorânea é cercada por imensos paredões que chegam a 1.200 metros acima do Oceano Pacífico e são cortados por cachoeiras gigantescas. Agência de turismo da região oferecem passeios de helicóptero para sobrevoar toda a costa litorânea.
Campo de Tulipas Vale de Skagit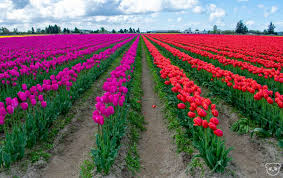 Onde fica: Washington.
O que fazer? Visitar o Festival de Tulipas no mês de abril.
Outro lugar incrível para conhecer nos Estados Unidos, são os coloridos campos de tulipas ficam próximo a cidadezinha de Mount Vernon, a aproximadamente 1 hora de Seattle, e é um ótimo destino nos Estados Unidos para visitar com a família. Os campos de tulipas abrem as portas das fazendas produtoras da planta durante o mês de abril, quando ocorre a primavera no hemisfério norte.
San Antonio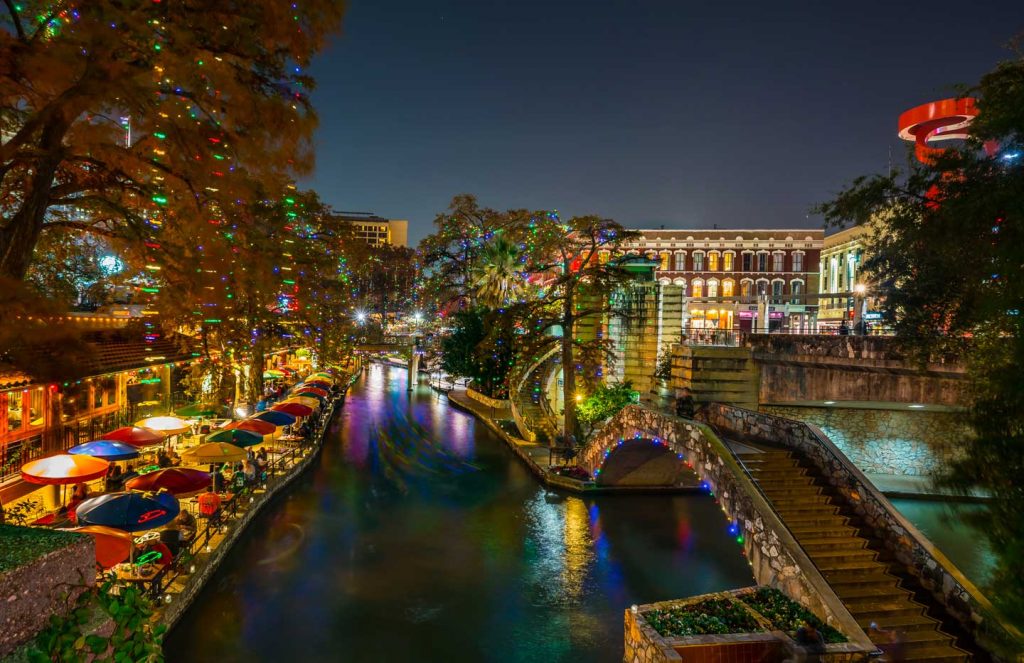 Onde fica: Texas.
O que fazer? Happy hour nos restaurantes simpáticos da Riverwalk.
San Antonio se destaca como uma das mais charmosas de todo o país. A cidade foi fundada por espanhóis em 1718 e carrega até hoje construções bem preservadas das missões jesuíticas. Já a Riverwalk concentra bares descontraídos, restaurantes, lojas e atrações interessantes que revelam um lado multicultural divertidíssimo.
---
Five incredible and little-known places in the United States
By ACHEIUSA
The United States has impressive landscapes and cities that go far beyond its leading destinations, such as New York, Miami, and San Francisco.
With continental dimensions and spectacular biodiversity of landscapes that fill your eyes, the third-largest country on the globe is bathed by the Pacific and Atlantic oceans. It has landscapes formed by deserts, ice-covered mountains, tropical forests, charming beaches, and much more!
Kenai Fjords National Park
Where is it: Alaska.
What to do? Take a kayak ride between the Bear Lake icebergs and check out the Harding Icefield, the largest continuous ice field in the United States.
Located in the southern part of the US state of Alaska, Kenai Fjords National Park is accessible through Seward. The park has impressive bucolic landscapes formed by glaciers, snowy mountains, lakes, and forests. The region is also a great spot to spot the colorful lights of the northern lights between September and April.
Bonneville Salt Flat
Where is it: Utah.
What to do? Check out Bonneville Speed ​​Week, the exotic car race in the desert.
A scenario similar to the fascinating Salar de Uyuni in Bolivia, the Salar de Bonneville, or "Bonneville Salt Flats" is a salt desert with more than 30 thousand acres. In August, adventurers searching for adrenaline organized the traditional event of breaking speed records, with the highest speed reached on the ground by man was 1,172 km / h.
On the Pali Coast
Where is it: Kawai – Hawaii.
What to do? Walk the Kalalau Trail, an impressive trail that runs through the peaks and valleys of the coast.
Costa Na Pali is undoubtedly one of the most beautiful pieces of the Hawaiian island of Kauai. The coastal coast is surrounded by massive cliffs that reach 1,200 meters above the Pacific Ocean and are cut by giant waterfalls. Tourist agencies in the region offer helicopter tours to fly over the entire coastline.
Skagit Valley Tulip Field
Where is it: Washington.
What to do? Visit the Tulip Festival in April.
Another incredible place to visit in the United States, are the colorful tulip fields located near the town of Mount Vernon, approximately 1 hour from Seattle, and it is an excellent destination in the United States to visit with the family. The tulip fields open the plant's producing farms during April when spring occurs in the northern hemisphere.
San Antonio
Where is it: Texas.
What to do? Happy hour at Riverwalk's friendly restaurants.
San Antonio stands out as one of the most charming in the whole country. The city was founded by Spaniards in 1718 and still carries well-preserved buildings from the Jesuit missions. Riverwalk, on the other hand, concentrates relaxed bars, restaurants, shops, and exciting attractions that reveal an enjoyable multicultural side.