Kissimmee, Fla. (Julho, 2020) — Kissimmee é o destino perfeito para momentos de férias inesquecíveis. Com as condições atuais, há muitas aventuras e atrações ao ar livre que garantem o distanciamento simplesmente pela natureza.
Aqui estão alguns dos parceiros ecológicos de Experience Kissimmee, agora reabertos com novas medidas de segurança.
A mais antiga atração da Flórida Central, Gatorland, oferece aos hóspedes a oportunidade de ver milhares de jacarés e crocodilos, um viveiro de aviários e pássaros, um pântano incrível, um zoológico de animais domésticos, shows e muito mais. Quem gosta de emoção, considere fazer a Zip Screamin 'Gator – uma tirolesa que sobrevoa jacarés e crocodilos a velocidades próximas a 48 quilômetros por hora.
O parque de ecoturismo também oferece uma tirolesa com mais de 100 metros de comprimento, acessível a cadeiras de rodas, chamada Gator Gauntlet, que sobrevoa o parque e seu pântano gigante de criação de jacarés.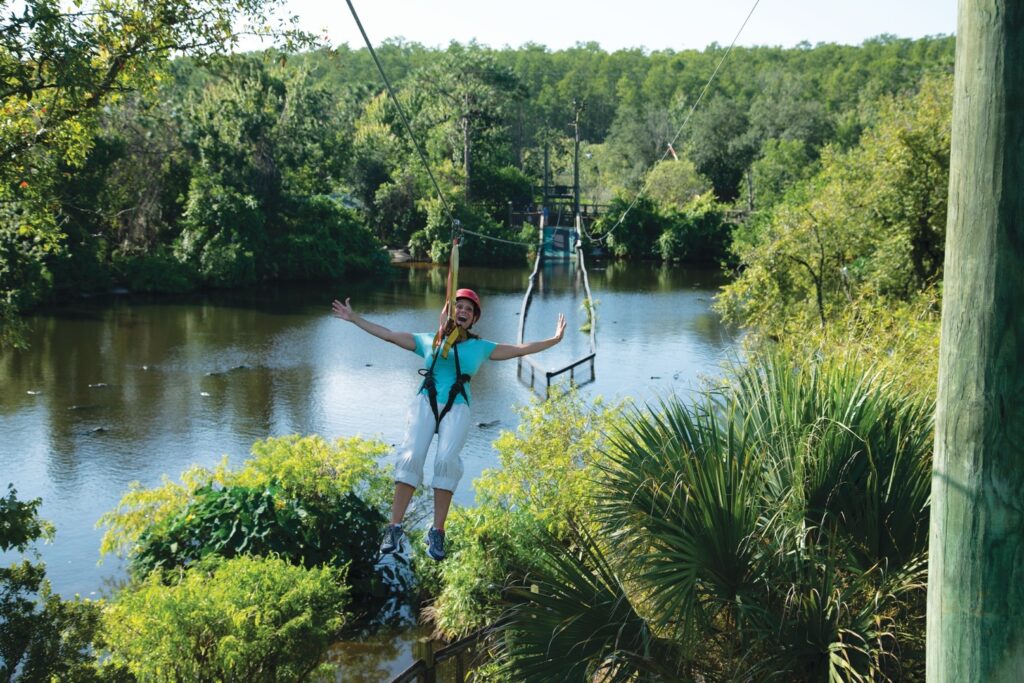 Passeios de aerobarco, jacarés, um safari drive-thru e muito mais. Localizado à margem do Lago Cypress, os passeios de barco a motor da Wild Florida permitem que os visitantes se aproximem da vida selvagem da Flórida em seu habitat natural. O parque exibe várias espécies diferentes de animais, como jacarés, pássaros tropicais, emas, águias e muito mais. Os hóspedes podem pegar um livro com atividades e dirigir seus próprios carros pelo parque de safári Drive-Thru de quase 350 mil m2 para descobrir animais nativos e exóticos que circulam livremente.
Orlando Tree Trek Adventure Park
Essa atração é para os aventureiros – com mais de 97 desafios no topo das árvores, existem quatro cursos separados para nível de habilidade. O Orlando Tree Trek, localizado em Kissimmee, oferece dois cursos separados criados para crianças, incluindo 21 desafios. Além disso, proporciona uma tirolesa de aproximadamente 130 metros para terminar a aventura.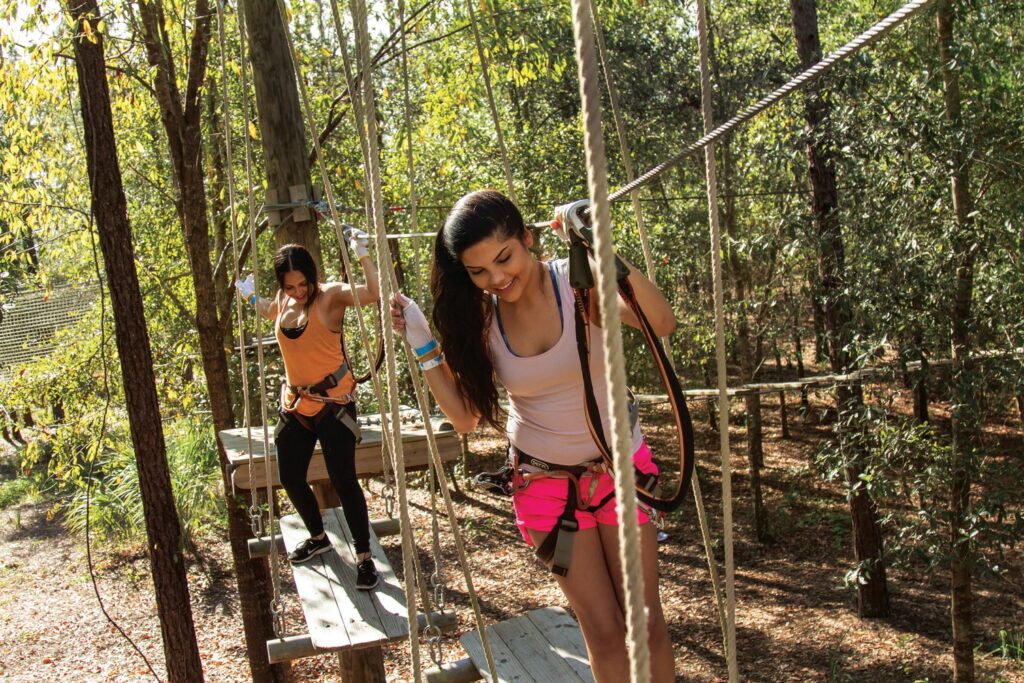 Localizada na zona rural da Flórida Central, essa experiência permite aos hóspedes dirigir um quadriciclo através de buracos de lama, trilhas de areia seca e grama com muitas voltas. Quer ir devagar? Embarque no caminhão militar de seis rodas do parque, projetado para oferecer as melhores vistas dos lagos, dunas de areia e animais selvagens.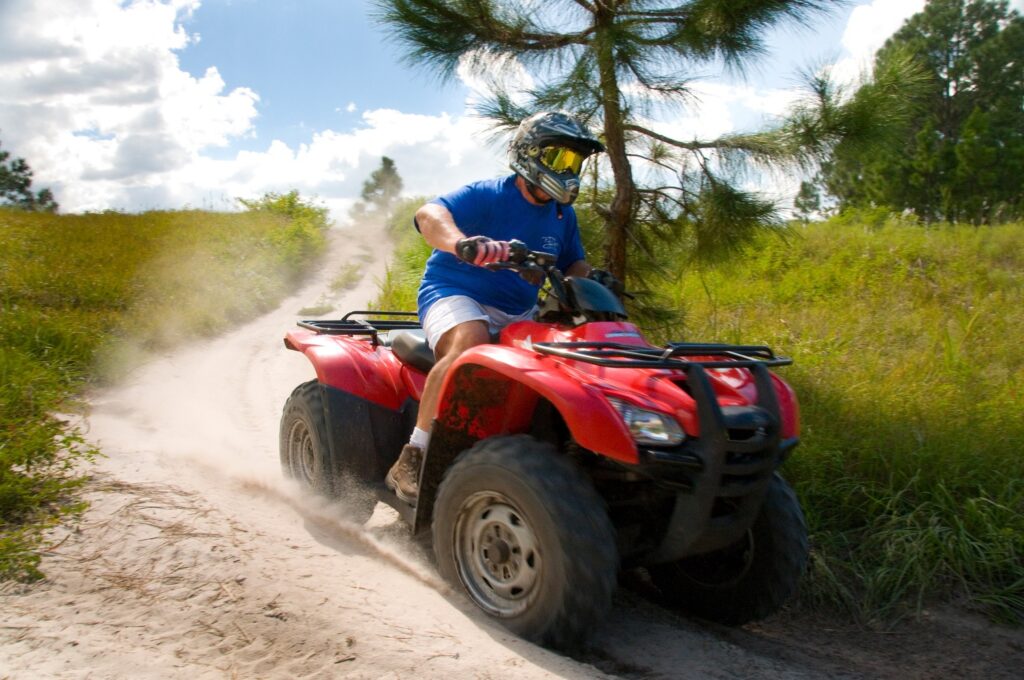 Sobre Experience Kissimmee:
Com quase 50 anos de experiência em férias e mais de nove milhões de visitantes por ano, Kissimmee fica a poucos minutos dos parques temáticos e das atrações mais famosas do mundo. Em Kissimmee, você encontra, desde belezas naturais extraordinárias, como a nascente do Everglades, à gastronomia para todos os paladares. Experience Kissimmee é a autoridade oficial de turismo do Condado de Osceola, na Flórida, responsável pelas vendas e marketing do destino. Kissimmee também é a Capital Mundial das Casas de Férias®, com mais de 70 mil opções de hospedagem, incluindo resorts de luxo, hotéis para famílias e mais de 50 mil casas de férias.
Se inspires me: experiencekissimmee.com.
---
Social distance through nature: Kissimmee's outdoor adventures

Kissimmee, Fla. (July 2020) – Kissimmee is the perfect destination for unforgettable vacation moments. With the current conditions, many outdoor adventures and attractions guarantee the distance only by nature.
Here are some of Experience Kissimmee's green partners, now reopened with new security measures.
Gatorland
Central Florida's oldest attraction, Gatorland, offers guests the opportunity to see thousands of alligators and crocodiles, an aviary and birds nursery, an incredible swamp, a petting zoo, shows, and more. For those who like excitement, consider making Zip Screamin 'Gator – a zip line that flies alligators and crocodiles at speeds close to 30 miles per hour.
The ecotourism park also offers a zip line more than 100 meters long, accessible to wheelchairs, called Gator Gauntlet, which flies over the woodland and its giant alligator breeding swamp.
Wild Florida
Airboat rides, alligators, a drive-thru safari, and more. Located on the shore of Lake Cypress, motorboat tours from Wild Florida allow visitors to get close to Florida wildlife in their natural habitat. The park displays several different species of animals, such as alligators, tropical birds, emus, eagles, and more. Guests can pick up an activity book and drive their cars through the nearly 350,000 m2 Drive-Thru safari park to discover native and exotic animals that roam freely.
Orlando Tree Trek Adventure Park
This attraction is for the adventurous – with over 97 tree-top challenges, there are four separate courses for skill level. The Orlando Tree Trek, located in Kissimmee, offers two different courses designed for children, including 21 challenges. Also, it provides a zip line of approximately 130 meters to end the adventure.
Revolution Adventures
Located in rural Central Florida, this experience allows guests to drive an ATV through mud holes, dry sand trails, and much winding grass. Do you want to go slow? Board the park's six-wheeled military truck, designed to offer the best views of lakes, dunes, and wildlife.
About Experience Kissimmee:
With nearly 50 years of the vacation experience and more than nine million visitors each year, Kissimmee is just minutes from theme parks and the most famous attractions in the world. In Kissimmee, you will find, from extraordinary natural beauty, such as the source of the Everglades, to gastronomy for all tastes. Experience Kissimmee is the official tourism authority for Osceola County, Florida, responsible for the destination's sales and marketing. Kissimmee is also the World Capital of Vacation Homes®, with more than 70,000 accommodation options, including luxury resorts, hotels for families, and more than 50,000 vacation homes.
Get inspired by experiencekissimmee.com.