O ex-jogador do New England Patriots fechou contrato no valor de $50 milhões
editoria@floridareview.com

Após chamar Massachusets de lar por mais de 20 anos, Tom Brady mudará para a Florida, após fechar um contrato milionário com o Tampa Bay Buccaneers.
Com previsão de começar nova temporada na Liga Nacional de Futebol Americano – National Football League (NFL) -, em setembro de 2020, o jogador, marido da brasileira Gisele Bündchen, alugou uma casa na parte oriental da Costa do Golfo.
O local escolhido foi a mansão de Derek Jeter, a chamada St. Jetersburg – junção do nome de Jeter com a cidade vizinha San Petersburg -, que fica a pouco mais de 11 quilômetros do Centro de treinamento Buccaneers, no bairro Ilhas Davis.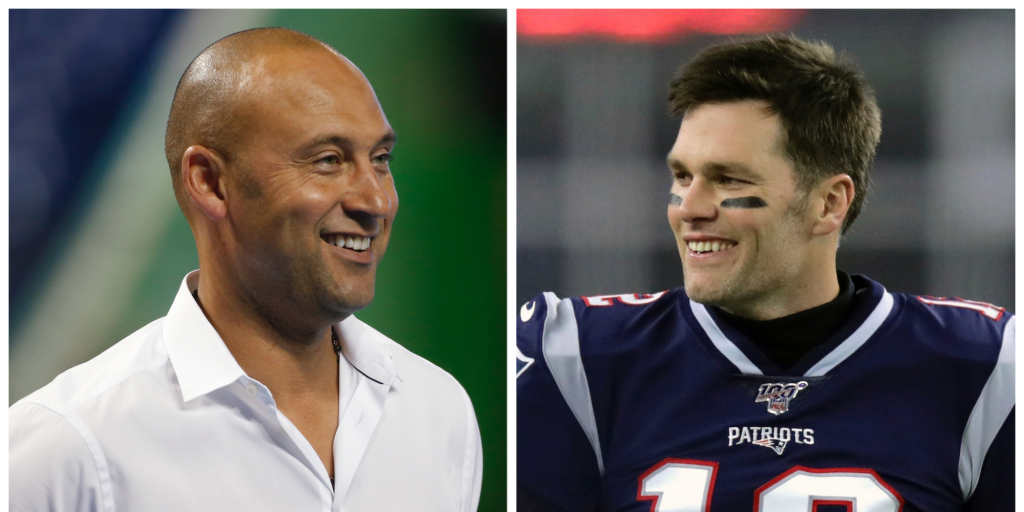 Jeter, ex-jogador profissional de baseball e proprietário do time de Baseball Miami Marlins, desde setembro de 2017, pagou $7,7 milhões pelos lotes nos quais a propriedade está localizada, em operações entre 2005 e 2006, segundo o jornal New York Times.
Segundo o jornal Tampa Bay Times, o valor estimado de aluguel, por mês, da residência, visto todos os custos estimados, é de $75 mil. Valor que deve ser pago por pouco mais de 2.879 metros quadrados de área, com sete quartos e nove banheiros, uma piscina e uma sala de entretenimentos.
Arquitetura
O estilo arquitetônico é mais ou menos solar, um drive-through distingue o exterior, ajudando a estabelecer o estilo de vida como santuário. As comodidades incluem estacionamento coberto para seis carros, além de uma sala de bilhar e uma sala de estar e entretenimento.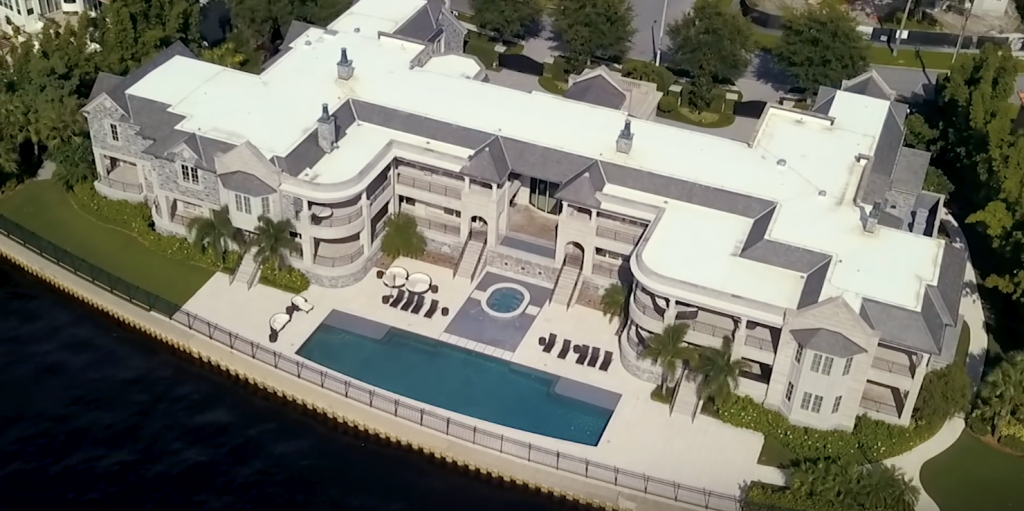 As outras residências do casal Brady- Bündchen incluem uma unidade no Robert A.M. O Tribeca, projetado pela Stern, e uma mansão projetada por Richard Landry em Brookline, um subúrbio sofisticado de Boston, Massachusets, que está à venda desde o verão passado.
A antiga mansão da família apresenta um celeiro rústico (antigo "santuário" de Gisele), toneladas de luz natural, um amplo quintal e uma linda cozinha com uma ilha de mármore, custa agora $ 34 milhões.
O efeito Tom Brady: Bucs vêem salto no tráfego de sites de vendas de ingressos
Fonte: StubHub
Muitos estão de olho na NFL este ano, não apenas porque é a única agência de esportes que os americanos devem prestar atenção agora, mas também porque existem alguns grandes nomes chegando ao mercado este ano. Mais notavelmente: Tom Brady.
Embora a programação da NFL ainda não tenha sido divulgada, o StubHub rastreou quantos fãs visitam as páginas das equipes no StubHub – dos Chargers aos Patriots e aos Buccaneers. Quando os rumores de Brady-to-Bucs começaram a girar em 17 de março, o tráfego para a página da equipe de Bucs no StubHub começou a aumentar. No dia 18, quando as notícias se tornaram praticamente oficiais, o número de visitantes era 71x maior que dois dias antes.
O StubHub dividiu os números de quão grande era sua assinatura:
O tráfego para a página da equipe Bucs no StubHub, em 18 de março deste ano, foi 144x maior que o tráfego em 18 de março de 2019.
A página de Tampa Bay no StubHub teve mais visitas do que qualquer outra equipe nesta semana. O Bucs teve 120% mais visitantes do que o time da NFL nº 2 da semana, o Las Vegas Raiders.
Principais equipes da NFL por tráfego do site esta semana:
Na semana passada, os Bucs tiveram o maior tráfego no StubHub em música e teatro, além de esportes, superando o BTS em 48%, Billie Eilish em 61% e Lady Gaga em 170%, as próximas páginas com melhor desempenho.
Há um ano, os Bucs nem estavam entre os 10 principais no tráfego do site durante a primeira semana de agência gratuita.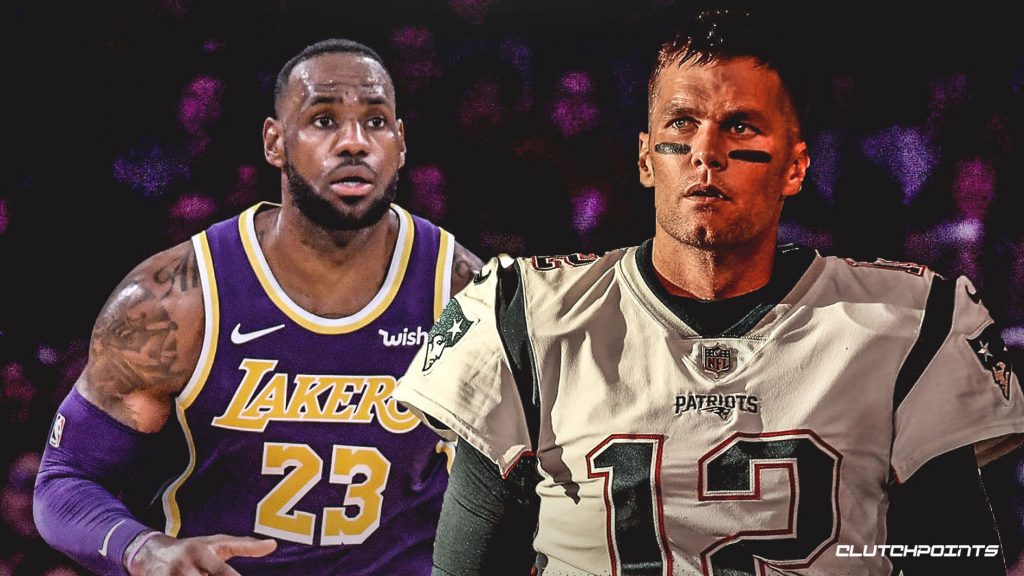 BRADY vs. LEBRON
A última vez que os fãs viram essa emoção por um jogador icônico se juntar a um novo time foi em 2018, quando LeBron James se juntou ao Lakers. No entanto, mesmo esse movimento não se compara à influência de Brady no StubHub nesta semana.
O anúncio de Brady levou 71x mais visitantes à página Bucs este ano, comparado a apenas 36x mais visitantes do site Lakers após a assinatura de LeBron no ano passado.
Tom Brady rents Tampa Bay mansion for Buccaneers vacation
Former New England Patriots player signed a $ 50 million contract

After calling Massachusets home for more than 20 years, Tom Brady will move to Florida after signing a millionaire contract with Tampa Bay Buccaneers.
Expected to start a new season in the National Football League – National Football League (NFL) – in September 2020, the player, husband of Brazilian Gisele Bündchen, rented a house in the eastern part of the Gulf Coast.
The location chosen was Derek Jeter's mansion, called St. Jetersburg – the junction of Jeter's name with the neighboring city of San Petersburg -, which is just over 11 kilometers from the Buccaneers Training Center, in the Davis Islands neighborhood.
Jeter, a former professional baseball player and owner of the Miami Marlins baseball team, since September 2017, paid $ 7.7 million for the plots on which the property is located, in operations between 2005 and 2006, according to the New York Times.
According to the Tampa Bay Times, the estimated monthly rent for the home, considering all estimated costs, is $ 75,000. Amount to be paid for just over 2,879 square meters of area, with seven bedrooms and nine bathrooms, a swimming pool and an entertainment room.
Architecture
The architectural style is more or less solar, a drive-through distinguishes the exterior, helping to establish the lifestyle as a sanctuary. Amenities include covered parking for six cars, plus a billiard room and a lounge and entertainment area.
The other residences of the Brady-Bündchen couple include a unit at Robert A.M. The Tribeca, designed by Stern, and a mansion designed by Richard Landry in Brookline, a sophisticated suburb of Boston, Massachusetts, which has been on sale since last summer.
The family's former mansion features a rustic barn (former Gisele "sanctuary"), tons of natural light, a large backyard, and a beautiful kitchen with a marble island, now cost $ 34 million.
The Tom Brady effect: Bucs see a jump in traffic from ticket sales sites
Source: StubHub
Many are eyeing the NFL this year, not only because it is the only sports agency that Americans should pay attention to now, but also because there are some big names coming to the market this year. Most notably: Tom Brady.
Although the NFL schedule has yet to be released, StubHub tracked how many fans visit team pages on StubHub – from Chargers to Patriots to Buccaneers. When rumors of Brady-to-Bucs started to spin on March 17, traffic to the Bucs team page on StubHub started to increase. On the 18th, when the news became practically official, the number of visitors was 71x higher than two days before.
StubHub split the numbers by how big your subscription was:
Traffic to the Bucs team page on StubHub on March 18 this year was 144x higher than traffic on March 18, 2019.
Tampa Bay's StubHub page had more visits than any other team this week. The Bucs had 120% more visitors than the NFL's No. 2 team of the week, the Las Vegas Raiders.
Top NFL teams by site traffic this week:
1. Tampa Bay Buccaneers
2. Las Vegas Raiders
3. Dallas Cowboys
4. Atlanta Falcons
5. Chicago Bears
Last week, Bucs had the most traffic on StubHub in music and theater, as well as sports, beating BTS by 48%, Billie Eilish by 61%, and Lady Gaga by 170%, the next best-performing pages.
A year ago, Bucs were not even in the top 10 in site traffic during the first week of free agency.
BRADY vs. LEBRON
The last time fans saw this emotion for an iconic player to join a new team was in 2018 when LeBron James joined the Lakers. However, even that move doesn't compare to Brady's influence on StubHub this week.
Brady's ad drove 71x more visitors to the Bucs page this year, compared to just 36x more visitors to the Lakers site after LeBron's signature last year.