WHAT DO ANDY & MICHEL HAVE IN COMMON?  15 MINUTES OF POP PORTRAIT FAME
 "German Pop Art Meets New York"
Vivienne's List
 Over forty years after the famed Andy Warhol was born in America, a German boy came to life with similar aspirations.  Pop artist, Michel Friess was born in 1970 in Neustadt a.d. Weinstrasse, Germany.  In his youth, Friess was attracted to street art and after experiencing the bohemian sides of New York and Vegas, he was hit with the pop art spell. He became known for his portrait work of renowned personalities published by his "German Pop Art" label.  Reminiscent of Warhol, pieces of Friess artwork pay tribute to items like the Campbell's soup can and characters like Mickey Mouse, Superman and Batman.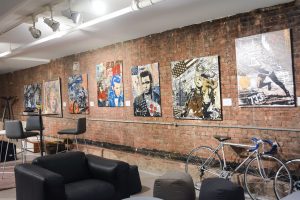 Past legends appearing in Friess' works include Marilyn Monroe, Audrey Hepburn, John Lennon, Johnny Cash and Steve McQueen.  More recent celebrities and notables include Arnold Schwarzenegger, Billy Idol, Angela Merkel, Giorgio Armani and former Mr. Universe, Ralf Moller.  And this month Friess even did a pop portrait of the current U.S. President that was personally delivered to Donald Trump at Mar a Lago.
Over time, Friess has been honored with many art awards and has had exhibitions throughout Europe.  Friess is represented by more than 30 galleries throughout Germany plus galleries in Austria and Spain
In April 2013, the top European art magazine, "Der Kunsthandel" placed Friess artwork titled "Berliner Dom" on its cover.  And most recently in January 2018, Friess had the grand opening of a Pop Art Gallery store in Shanghai, China dedicated exclusively to his work.
Friess's technique to create his artwork is pure handicraft.  He is famous for his works on aluminum, but also uses canvas and wood for his pieces.  His artwork is created by applying hand-silkscreen printing with every sieve custom-made from wood and strung by Friess himself. The process is very intricate with up to 20 different sieves being used for one work of art.  Friess applies a mixture of hand-silkscreen printing, painting, airbrushing from spray cans and paper collages to his art.  His work has become his signature.
In case you happen to be in New York City, don't miss out on the chance to check out: "German Pop Art Meets New York",  an ongoing exhibition through May 2018.  Custom portraits can be commissioned and paintings can be shipped anywhere worldwide.
New Yorkers can see Michel Friess' pop art in SoHo at STUDIOANISE which houses the ROLF BENZ U.S. Flagship furniture store, presenting a carefully curated exquisite collection of contemporary home furnishings.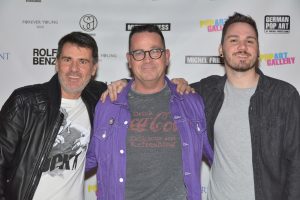 The affluent and discerning crowd that I was able to meet during the vernissage of Michel's exhibition, which included sports figures and business titans, was impressed by this pop artist's talent and delighted by the entire ambiance of the venue:  glamorous mixture of glitterati from the worlds of art, design, fashion and furniture. The Michel Friess art exhibition at the Anise/Rolf Benz U.S. flagship store was a definitive coming-together of art and design, German style.  And this synergy was fully embraced by the hostess, Hope Gainer, who combined her network(ing), resources and eye for talent to create a top-notch art event.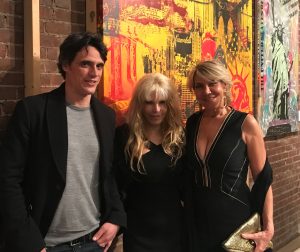 "Already on my first trip to New York, I fell in love with the city.  New York is the inspiration of many of my artworks.  I am thrilled to have my first solo exhibition in the heart of SoHo within the amazing ambiance of the Rolf Benz flagship store, an established German contemporary furniture brand."  Michel Friess
StudioAnise/Rolf Benz U.S. flagship store owner, Paul Anis is delighted to share his special SoHo space with the talented German pop artist, Michel Friess: "We believe strongly in the collaboration between art and design.  Indeed, the integration of art and design makes for a perfect pair in the eclectic world of high-end style." Paul Anis
"German Pop Art Meets New York"  has made it to Vivienne's List!  So you definitely do not want to miss it.