editoria@floridareview.com

Sunshine State – como é conhecida a Florida – guarda tesouros maiores que os mais óbvios e mais visitados por turistas do resto do mundo. Um exemplo é a cidade de St. Augustine – a "ocupação contínua mais antiga, mantida por europeus, na América do Norte".
A região abriga museus, estátuas e diversos outros monumentos que datam de 1565, quando foi fundada por exploradores espanhóis, mais especificamente por Pedro Menéndez de Avilés, primeiro governador do Estado da Florida.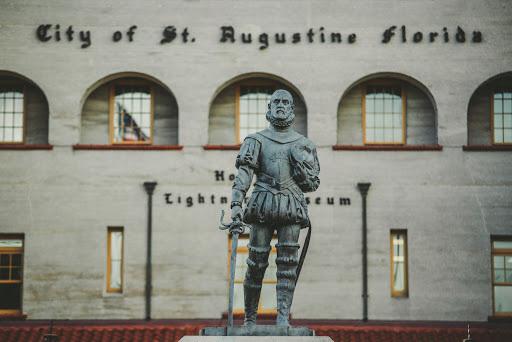 Na primeira capital do Estado, há, também, construções e acontecimentos mais recentes, também bastante destacados, relacionados à modernização da Florida, na virada do século XX, e ao movimento dos direitos civis na década de 1960.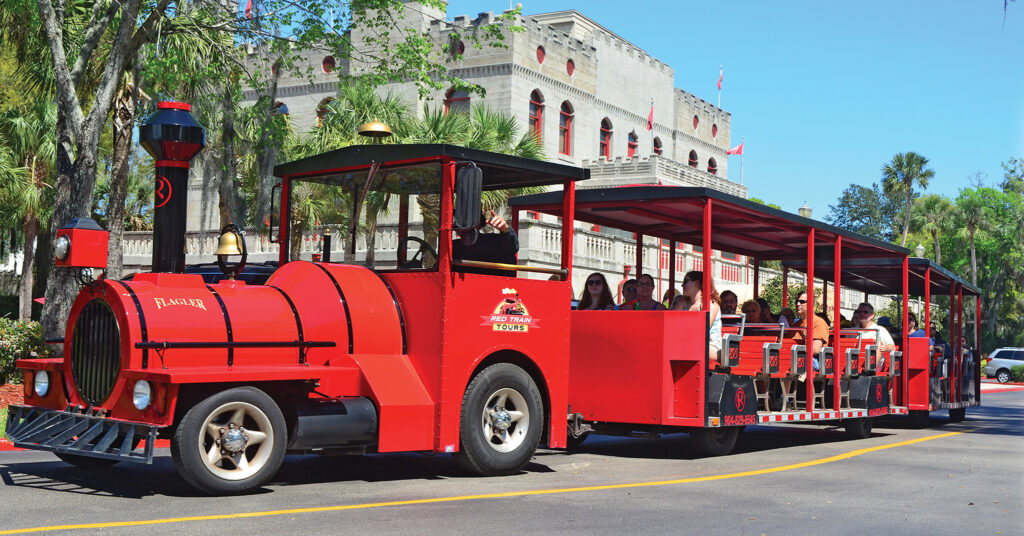 Esses lugares podem ser visitados através de passeios em "trens" com rodas, Old Town Trolley e Ripley's Red Train. Os preços ficam em torno de $20, com descontos para famílias e grupos numerosos.
No entanto, visitar St. Augustine não se resume a uma longa e tediosa aula de história, típica de passeios escolares. A cidade é recheada de restaurantes e bares, principalmente no chamado centro antigo, além de uma cervejaria, uma destilaria e um vinhedo, todos disponíveis para visitação.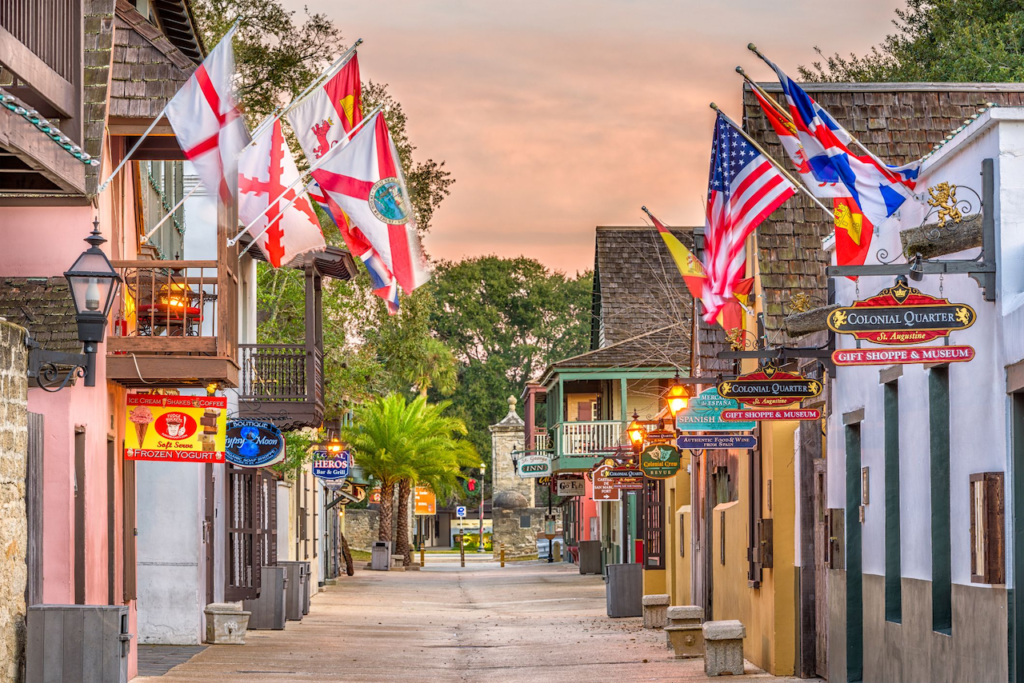 Parada obrigatória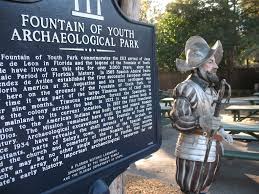 Uma das paradas obrigatórias do passeio é o Fountain of Youth Historic Archeological Park, que marca a chegada de Ponce de León à Pascua Florida e o estabelecimento da primeira colônia bem-sucedida na América do Norte, por Menendez de Avilés e sua expedição de 200 marinheiros, 500 soldados e 100 colonos de variadas profissões.
O caminho para a entrada do parque é coberto por árvores seculares dispostas ao longo da Magnolia Avenue, exemplo da beleza que se esconde na simplicidade. A menos de 200 metros dali, porém, "The Old Senator", carvalho vivo há mais de 600 anos, é "testemunha silenciosa" da história de combates dos espanhóis com os franceses e ingleses.
Diante da baía, chamada de Matanzas, o Castillo de San Marcos reúne a memória destes confrontos, desde que começou a ser construído, em 1672, para proteger os habitantes dos ataques de piratas.
Para os mais religiosos, a cidade reserva mais uma atração especial – o local onde o padre Francisco López de Mendoza Grajales, integrante da expedição de Menendez de Aviles, rezou a primeira missa no continente, em 8 de setembro de 1565.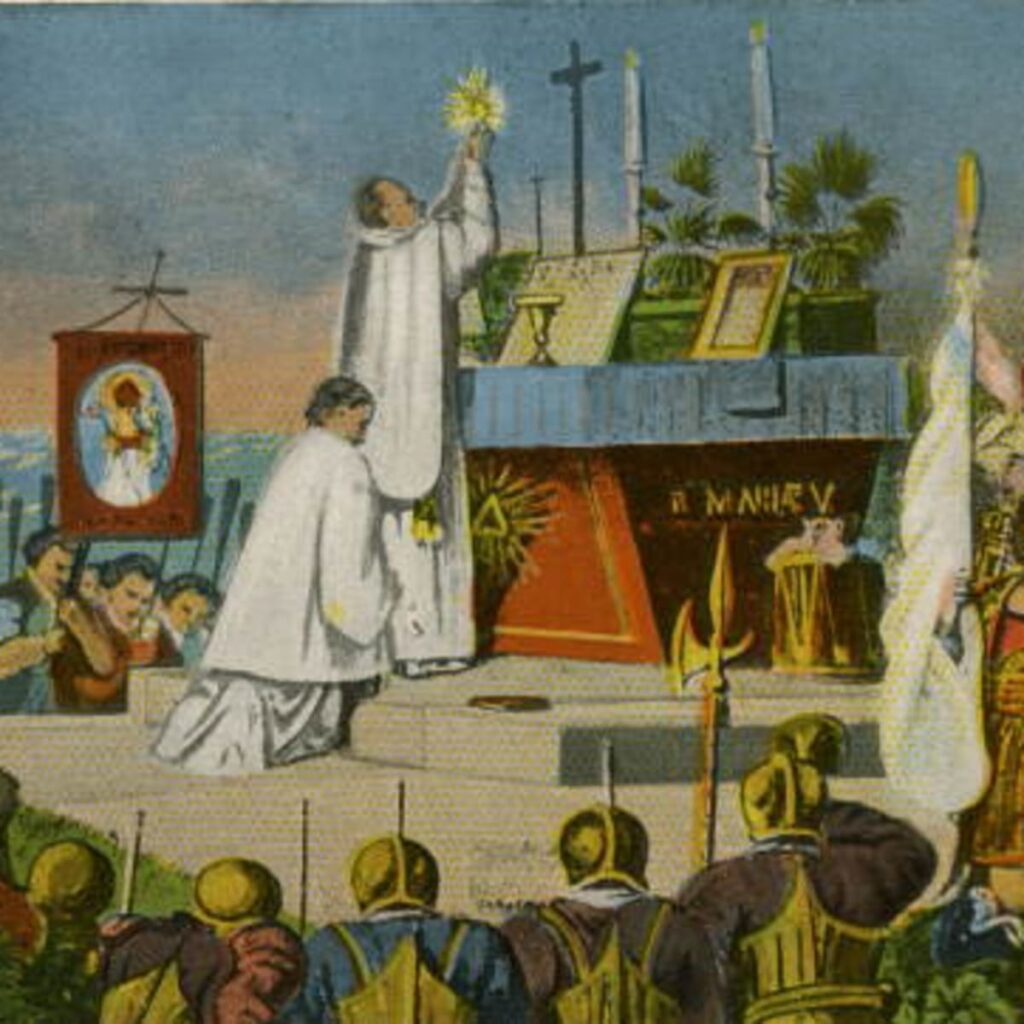 Onde fica?
Para quem mora no Sul da Flórida, bastam poucas horas na I-95 (sentido Norte), para embarcar em uma viagem à área metropolitana de Jacksonville, mais especificamente quatro horas e trinta minutos de carro, saindo de Miami.
A viagem também pode ser feita de ônibus ou trem, que levam cerca de nove horas e meia de viagem ou de avião, com descida em Jacksonville ou Orlando.
---
Florida's oldest city magic
editoria@floridareview.com

Sunshine State – as Florida is known – holds treasures bigger than the most obvious and most visited by tourists from the rest of the world. One example is the city of St. Augustine – the "oldest continuous occupation, maintained by Europeans, in North America".
The region is home to museums, statues, and several other monuments that date from 1565, when it was founded by Spanish explorers, more specifically by Pedro Menéndez de Avilés, the first governor of the State of Florida.
In the first capital of the State, there are also more recent constructions and events, also quite prominent, related to the modernization of Florida, at the turn of the 20th century, and to the civil rights movement in the 1960s.
These places can be visited through wheeled "train" rides, Old Town Trolley, and Ripley's Red Train. Prices are around $ 20, with discounts for families and large groups.
However, visiting St. Augustine is not just a long and tedious history lesson, typical of school trips. The city is full of restaurants and bars, mainly in the so-called old center, in addition to a brewery, a distillery, and a vineyard, all available for visitation.
Mandatory stop
One of the mandatory stops on the tour is the Fountain of Youth Historic Archeological Park, which marks the arrival of Ponce de León in Pascua Florida and the establishment of the first successful colony in North America by Menendez de Avilés and his expedition of 200 sailors, 500 soldiers and 100 settlers of various professions.
The path to the park's entrance is covered by secular trees along Magnolia Avenue, an example of the beauty hidden in simplicity. Less than 200 meters away, however, "The Old Senator", a live oak for more than 600 years, is a "silent witness" of the Spanish fighting history with the French and English.
Facing the bay, called Matanzas, the Castillo de San Marcos recalls these clashes, since it began to be built in 1672 to protect the inhabitants from pirate attacks.
For the more religious, the city has yet another special attraction – the place where Father Francisco López de Mendoza Grajales, a member of the Menendez de Aviles expedition, said the first mass on the continent, on September 8, 1565.
Where is?
For those who live in South Florida, it takes just a few hours on I-95 (northbound) to embark on a trip to the Jacksonville metropolitan area, specifically four hours and thirty minutes by car, from Miami.
The trip can also be done by bus or train, which takes about nine and a half hours of travel or by plane, with descent in Jacksonville or Orlando.